The founding Assembly of the Association for realization of the common interests of the banks and promotion of their operation – MACEDONIAN BANKING ASSOCIATION, was held on April 20, 2018 in Skopje.

The Assembly has adopted the founding acts of the Macedonian Banking Association (MBA). At the same time, the bodies of the MBA were also elected.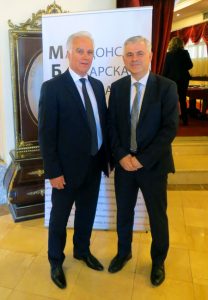 Mr. Kosta Mitrovski, Chief Executive Officer and Chairman of the Management Board of Universal Investment Bank AD – Skopje, has been elected Chairman of the Macedonian Banking Association (MBA) in the next 4-year period.
Mr. Toni Stojanovski, Chief Risk Officer and member of the Board of Directors of Stopanska Banka AD – Skopje, was elected Deputy Chairman.
Milena Perchinkova, the former secretary of the Banking Association, was elected executive secretary.
As an Associate member of the European Banking Federation, with perspectives for full membership in the process of European integration of the Republic of Macedonia, the Banking Association had an inevitable need for transformation into an independent legal entity following the example and experiences of all other countries, both from the EU and from our region.